Supplied sterile and ready to use
Sterifeed supply breast milk bottles to Neonatal Units, Special Baby Care Units and Children's Hospitals across the UK.
Manufactured from BPA-free polypropylene, Sterifeed 100ml bottles will fit market leading breast pump flanges such as Medela and Ameda.
Features
Supplied sterile
Individually wrapped in tamper evident packaging
BPA, BPS and phthalate free
Suitable for fridge or freezer
Accepts a range of Sterifeed teats
Ready for immediate use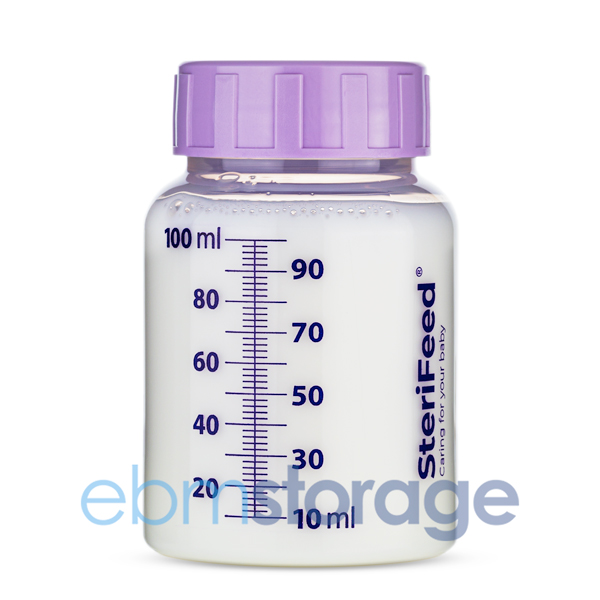 All photographs on this website
© Copyright Richard Cassidy Limited 2014-22
Sterifeed disposable breast milk bottle 100ml
Product code: 14103
As an Amazon Associate we earn from qualifying purchases.
---
Hygiene
This product is supplied sterile, sealed in tamper evident packaging, ready to use.
Resterilisation and reuse is not recommended.
Teats
We stock the Sterifeed range of teats. There are standard, preterm and orthodontic teats in both latex and latex free materials. Each sterile teat is supplied individually wrapped ready for immediate use.
The teat range is linked from the main menu at the top of this page.
Sterifeed teat locking rings collars will also fit narrow necked (standard necked) bottles by Ameda, ARDO, Lansinoh, Medela and many more. They will not fit wide necked systems such as those marketed by Avent, Nuk and Tommee Tippee.
Pumping
Sterifeed disposable bottles will screw directly to narrow neck (standard) breast pump fittings by Ameda, ARDO, Medela and Lansinoh. They will not fit wide neck systems such as Avent, Tommee Tippee or Nuk.
---