Supplied sterile in tamper evident bags
Recommended for reuse up to 5 times.
Manufactured from BPA-free polypropylene, Sterifeed reusable 250ml bottles will fit market leading breast pump flanges such as Medela and Ameda.
Sterifeed breast milk bottles are a convenient alternative to freezer bags, are easy to handle and transport. Storing milk in small containers reduces waste, especially when frozen milk is thawed.
Features
Supplied sterile
Individually wrapped in tamper evident packaging
Reusable. Replacement recommended after 5 uses
BPA, BPS and phthalate free
Suitable for fridge or freezer
Accepts a range of Sterifeed teats
Clear filling scale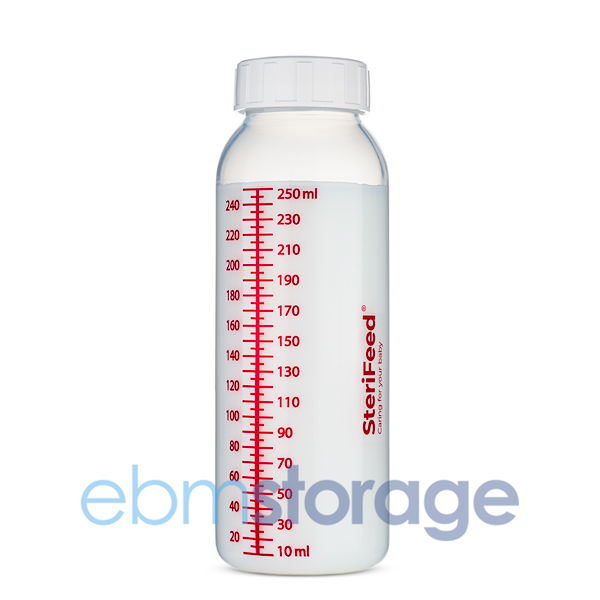 All photographs on this website
© Copyright Richard Cassidy Limited 2014-21
Buy: Sterifeed reusable breast milk bottle - 250ml
Product code: 14190
Prices from £10.49 inc. VAT (pack of 10)
Availability:
---
Orders completed by 2.30pm (Mon-Fri) will normally leave our premises on the same day. Call us first if you intend to collect.
See our shipping service summary for detailed information on our various shipping services.
---
Hygiene
This product is supplied sterile, sealed in tamper evident packaging, ready to use.
Sterifeed 250ml bottles (14190) may be reused following careful sterilisation. The recommended method is cold-water sterilisation tank, using Milton or similar sterilising liquid. Also suitable for most electric steam sterilisers.
Do not microwave this product.
Teats
We stock the Sterifeed range of teats. There are standard, preterm and orthodontic teats in both latex and latex free materials. Each sterile teat is supplied individually wrapped ready for immediate use.
The teat range is linked from the main menu at the top of this page.
---