Reusable narrow neck bottle
Our Sterifeed glass breast milk bottles are free from any chemical which may interact with your milk.
Sterifeed glass bottles are made from Borosilicate, which unlike more common glass types, has excellent resistance to thermal shock and thermal stress. Laboratory equipment and glass kitchenware typically utilise this type of glass.
Sterifeed glass bottles will screw directly to Ameda, ARDO or Medela breast shields and breast shield adapters and accept the full range of Sterifeed teats.
Features
Clear filling scale
BPA, BPS and phthalate free
Suitable for fridge or freezer
Fits leading breast pumps
Reusable and durable
Dishwasher safe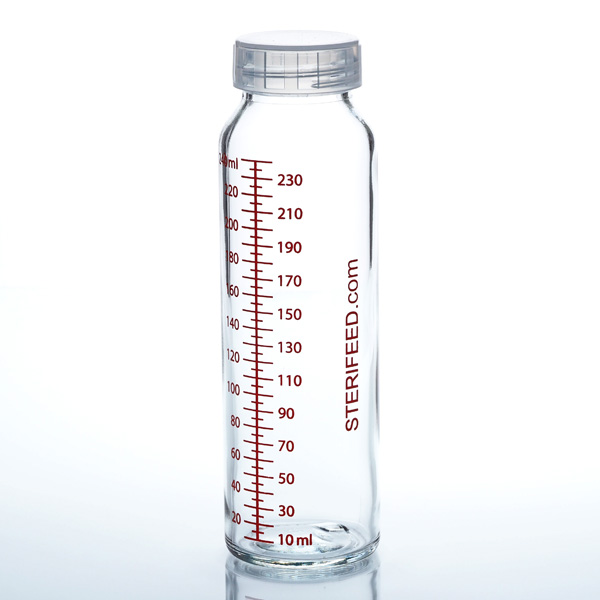 All photographs on this website
© Copyright Richard Cassidy Limited 2014-22
Buy: Sterifeed glass breast milk bottle - 240ml
Product code: 15001
As an Amazon Associate we earn from qualifying purchases.
---
Hygiene
Sterilise before use.
Sterifeed glass bottles may be reused following careful sterilisation by electric steam steriliser, cold water tank (Milton or similar), boiling or autoclave.
Dishwasher safe (top rack).
Teats
The ideal companion to a Sterifeed bottle is a Sterifeed teat. See the links within the top menu on this page.
Pumping
Sterifeed glass bottles will screw directly to narrow neck (standard) breast pump fittings by Ameda, ARDO, Medela and Lansinoh. They will not fit wide neck systems such as Avent, Tommee Tippee or Nuk.
---